Mulberries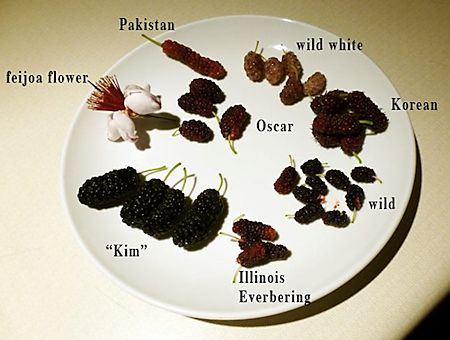 Mulberries are a delicate fruit grown around the world. They are loved for snacks, can be dried and stored or made into jams and jellies. When dried, they can be used for a sweetener in coffee and teas. Mulberries are known around the world as tree black berries. No other fruit brings in summer like mulberry. With sweet drops of sugar, it is the tastiest of all berries.
These small trees vary in size from 1 to 3 feet tall. Price $25.00
Miss Kim Mulberry - Comes to us from Robert Hamilton of Georgia (USA), a large berry, very tasty, a complex hybrid found growing in a city that Robert lives near, a winner in size and taste. Grafted, Zone 6 and up

Taylor # 1 - Morus alba tatarica hales from seedling grown from seed that we imported many years ago and gave to Lewis Taylor. Nice large berry, very tasty, has a tart sweetness that is worthy of a spot in any orchard. Very cold hardy, rated for Zone 4 to 5, Grafted

The picture of Mulberries above was made available to us by Robert Hamilton, a fruit explorer and President of North American Fruit Explorers (NAFEX).