Nut Growers Associations:
---
Indiana Nut Growers Association
A foremost authority on the production of nut trees, and nut crops.
http://www.nutgrowers.org/
---
NORTHERN NUT GROWERS ASSOCIATION
The NNGA brings together people interested in growing nut trees.
Our members include nurserypeople, farmers, amateur and commercial nut growers, horticultural teachers and scientists.
http://www.northernnutgrowers.org
---
PENNSYLVANIA NUT GROWERS ASSOCIATION
We, the PNGA, invite you to browse the nut growing information, recipes, links to nurseries and growers where you may obtain tree seedlings of all the nuts grown in PA. These include black walnuts, almonds, carpthian walnuts, pecans, hazel nuts, hickory and chestnuts. You may also become a member of the PNGA and you may ask questions of the membership at the click of a button. Click here to explore our site.
---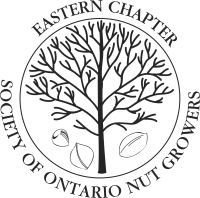 The Eastern Chapter of the Society Ontario Nut Growers
---