Quince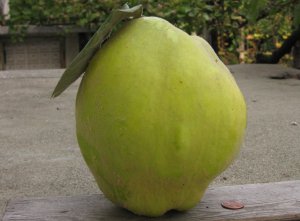 Quince - An old world fruit that is precocious and produces in 3 years. It is used in jellies, preserves, cooking and baking. It dries well and is a hard fruit until fully ripened. It will usually ripen on the trees. After 2 weeks in the house it has a very desirable aroma that fills the entire home. It is better known as fruit for processing, but it is delicious when ripe. Very ornamental with showy flowers in spring and beautiful foliage all year long. It makes a small bush and requires no maintenance or annual pruning. The fruit is delicious.
Medium Sizes - $25.00 each

Pineapple- Best cooked with Apples and Pear and just quince by them self's sweet aromatic when Soft and relatively pest free and this popular variety is treasured for it's unique, pineapple like flavor. $25.00 each



Karp's Sweet Quince – Extremely large, about twice the size of the other varieties, pear shaped, yellowish-green skin, with white flesh. great for cooking, pie fillings, candies and jelly. Ripens September to October, Mature Height 10 to 12 feet. Self-Fertile, and cold hardy to USDA Zone 5, Price $25.00 each

Kaunching - Kaunching produces abundant crops of lemon yellow, grapefruit-size fruit, sweet enough to be eaten fresh and good for making attractive and delicious preserves and baked goods.

Kuganskaya - From north of Turkey and Armenia, this exceptional variety bears bountiful crops of large, round, bright yellow fruit. Kuganskaya is sweet and mild, good for fresh eating and for making delicious preserves and baked goods.

Bulgarian Giant Quince - From Bulgaria, bred to be resistant to Fire Blight, very large fruit. B.G. quince is for eating fresh and makes exceptional jellies and baked goods.


There are many other cultivars of quince in small quantities. Just inquire about these cultivars at 606 965-2228.